Miss Dominica 2023 (Digital Ticket)
$60.00 – $175.00
Note: Early Bird Tickets will be sold at the DFC office
Persons must carry a digital or printed copy of this ticket to gain access to the event (QR Codes will be scanned at the gates)
Each ticket admits only one person
Tickets will be automatically delivered to your email upon purchase.
Compare
Disclaimer
Terms and Conditions – This ticket is not replaceable under any circumstances. There are no refunds. Any service fees are not refundable under any circumstances.

This ticket is valid only for the event for which it was issued. Admission may be declined. Unauthorized or unlawful resale may result in seizure and cancellation without any reimbursement. Tickets obtained in any unauthorized manner may have been stolen or counterfeit and may be invalid for entry. This ticket is not transferable, and it is against the law to reproduce or attempt the reproduction of this ticket.
Event Details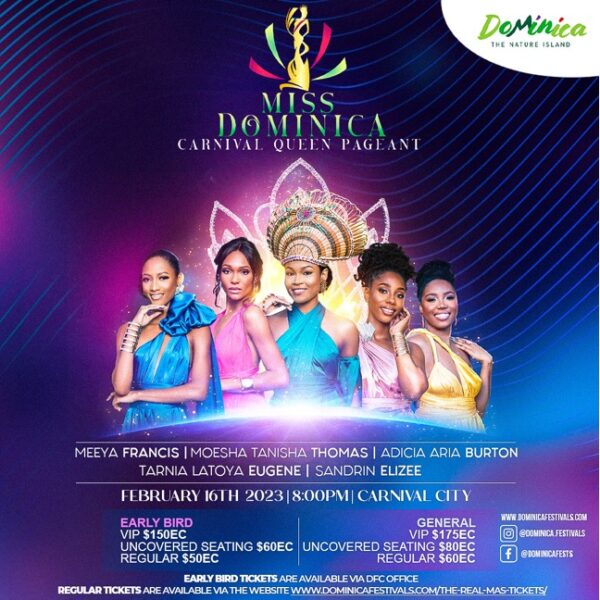 Date: February 16, 2023
Start time: 08:00 p.m. AST
End time: 03:00 a.m. AST
Venue: Carnival City
Email: kjnobaptiste@dominica.dm